South Los Altos, Los Altos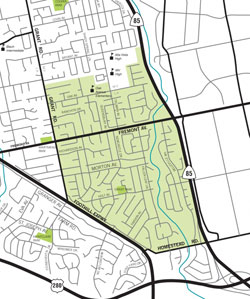 Snuggled into the borders of Mountain View, Sunnyvale and Cupertino, the South Los Altos community stretches between Grant Road and Stevens Creek. Some of the homes are built in the modern, two-story, Mediterranean look, while many are modeled after the classic ranch-style home.
Children in South Los Altos attend either Mountain View-Los Altos Union School District or the Cupertino Union School District, depending on their address. Both district's public schools are highly rated, but the dual district attendance doesn't lend itself to neighborhood cohesiveness.
The South Los Altos area does not hold any large events, but neighbors find other ways to get to know one another.
Although South Los Altos is not often the center of community events, it is a central location with access to many larger communities and activities.
FACTS
CHILDCARE AND PRESCHOOLS: CCLC Preschool, 2310 Homestead Road; Mountain View Parents Nursery School, 1299 Bryant Ave., Mtn. View; St. Simon's Catholic Church Extended Day Care Center, 1840 Grant Road; YMCA — Way to Grow Full-Day Preschool, 1501 Oak Ave.
FIRE STATION: No. 16, 765 Fremont Ave.
LIBRARY: Woodland, 1975 Grant Road
LOCATION: between Grant Road, Homestead Road Stevens Creek, Joel Way, Harwalt Drive, Oak, Truman, Miravalle avenues
PARKS: Grant Park, 1575 Holt Ave.; (nearby) Marymeade Park, Fremont Avenue at Grant Road
POST OFFICE: Loyola Corners, 1525 Miramonte Ave.
PRIVATE SCHOOL: St. Simon Catholic School, 1840 Grant Road
PUBLIC SCHOOLS: Los Altos School District — Oak Elementary School, Blach Intermediate School; Mtn. View-Los Altos Union High School District — Mountain View High School; or Cupertino Union School District — Montclaire Elementary School, Cupertino Middle School; Fremont Union High School District — Homestead High School
SHOPPING: Foothill Crossing, Homestead Road; Greenhaven Plaza, Grant Road
CLICK HERE to view current South Los Altos Listings