Loyola Corners, Los Altos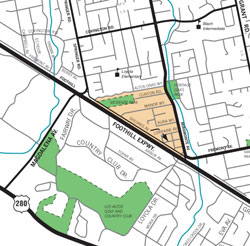 Dark brown wooden signs posted along Foothill Expressway point to Historic Loyola Corners. The area may feel old and established, but the corners are not particularly well defined, because the local shops and businesses spread out over several streets that then spill into residential pockets sandwiched between parks and offices, or lined by busy roads such as Fremont and Miramonte avenues.
Businesses may have changed over the years, but there is still a healthy range of services including a gas station, liquor store, kids' art classes and photo developing.
FACTS

FIRE STATION: No. 16, 765 Fremont Ave.
LIBRARY: Los Altos, 13 S. San Antonio Road; Woodland, 1975 Grant Road
LOCATION: a triangle roughly bounded by Fremont Avenue, Miramonte Avenue and Clinton Road
PARKS: McKenzie Park, 707 Fremont Ave.; Heritage Oaks Park, Portland and Miramonte avenues
POST OFFICE: Loyola Corners, 1525 Miramonte Ave.
PRIVATE SCHOOLS (NEARBY): Canterbury Christian School, 101 N. El Monte Ave.; Los Altos Christian School, 625 Magdalena Ave.; Pinewood School, 327 & 477 Fremont Ave.; Saint Francis High School, 1885 Miramonte Ave., Mtn. View
PUBLIC SCHOOLS: Los Altos School District — Loyola Elementary School, Blach Intermediate School; Mtn. View-Los Altos Union High School District — Mountain View High School
SHOPPING: Loyola Corners, Rancho Shopping Center
CLICK HERE to view current Central Los Altos Listings