Country Club, Los Altos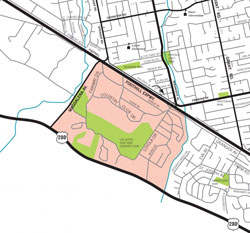 Nestled against the rolling hills of Rancho San Antonio Open Space Preserve (replete with wildlife, hiking trails and a working farm), the neighborhood known as Country Club (part of the larger San Antonio Hills community) stands apart from, and between, the towns of Los Altos and Los Altos Hills.
As the name suggests, the Los Altos Golf and Country Club, founded in 1923 on former ranch land, is a defining feature of the neighborhood. The exclusive club (membership is by invitation only), along with "a few churches," provides the only commercial activity in the neighborhood.
FACTS
CHILDCARE AND PRESCHOOLS (NEARBY): Los Altos Christian Preschool, 625 Magdalena Ave.; Los Altos United Methodist Children's Center, 655 Magdalena Ave.
FIRE STATION: No. 16, 765 Fremont Ave.
LIBRARY: Woodland, 1975 Grant Road
LOCATION: bounded by Magdalena Avenue, Foothill Expressway, Permanente Creek and Interstate 280
NEIGHBORHOOD ASSOCIATION: Richard Blanchard, president, 650-948-3073, San Antonio Hills Inc. Homeowners Association
PARK (NEARBY): Rancho San Antonio Open Space Preserve, Cristo Rey Drive
POST OFFICE: Loyola Corners, 1525 Miramonte Ave.
PRIVATE SCHOOL: Los Altos Christian School, 625 Magdalena Ave.
PUBLIC SCHOOLS: Los Altos School District — Loyola Elementary School, Blach Intermediate School; Mtn. View-Los Altos Union High School District — Mountain View High School
SHOPPING: Loyola Corners, Miramonte Avenue and Rancho Shopping Center
CLICK HERE to view current Central Los Altos Listings