Central Los Altos, Los Altos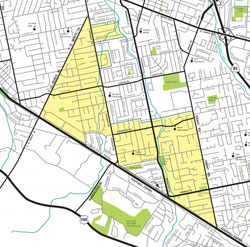 The Heritage Oaks neighborhood picnic is a tradition that is passed from generation to generation.
Older tract homes sit next to two-story behemoths on the green curbless streets in Central Los Altos. The neighborhood is made up of two connecting triangles. Besides a few zigs and zags, the boundaries of the northern triangle are El Monte Avenue, Springer Road and Foothill Expressway and the southern triangle is bordered by Covington Road, Grant Road and Foothill Expressway.
FACTS
CHILDCARE AND PRESCHOOLS (NEARBY): CCLC School Age at Covington Elementary, 201 Covington Road; Children's House of Los Altos, 770 Berry Ave.; St. Simon's Catholic Church Extended Day Care Center, 1840 Grant, Road; St. Timothy's Nursury School, 2094 Grant Road; Little Acorn School, 1667 Miramonte Ave.
FIRE STATION: No. 15, 10 Almond Ave.; Loyola station, No. 16, 765 Fremont Ave.
LOCATION: between Foothill Expressway, El Monte, Springer, Covington and Grant roads
PARKS: Heritage Oaks Park, Portland at Miramonte Avenue; Marymeade Park, Freemont Avenue at Grant Road; McKenzie Park, 707 Freemont Ave.; Rosita Park, 401 Rosita Ave.
POST OFFICE: Blossom Valley, 1768 Miramonte Ave. Mountain View; Rancho, 1150 Riverside Drive; Main, 100 First St.
LIBRARY: Los Altos, 13 S. San Antonio Road; Woodland, 1975 Grant Road
PRIVATE SCHOOLS (NEARBY): Canterberry Christian School, 101 N. El Monte Ave.; Pinewood School, 327 and 477 Fremont Ave.; St. Simon Catholic School, 1840 Grant Road; St. Francis High School, 1855 Miramonte Ave.
PUBLIC SCHOOLS: Los Altos School District — Covington, Loyola, Oak or Springer elementary schools; Mtn. View-Los Altos Union High School District — Los Altos or Mountain View high schools
SHOPPING: Blossom Valley Shopping Center, Miramonte Avenue and Cuesta Drive; Downtown Los Altos; Rancho Shopping Center, Foothill Expressway and Springer Road
CLICK HERE to view current Central Los Altos Listings