Staging to sell: Tips and tricks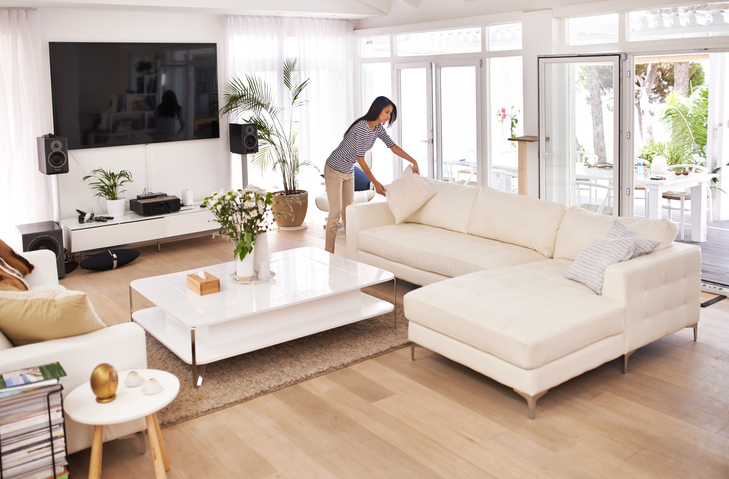 Selling your home is all about putting your best foot forward. Even the most beautiful homes need some amount of staging to attract buyers. Below are just some tips that can help you seal the deal:
Raise your curb appeal
First impressions matter, especially when it comes to selling your house. That's why sprucing up your lawn should be high in your staging to-do list. Power washing your walkways, planting flowers, and replanting turf are just some of the things you can do.
Prioritize your staging
With limited time and money for staging, sellers need to focus on rooms that are most important to buyers, such as the kitchen, the master bedroom, bathrooms, and the living room. Worry about upgrading that den or guest room only if you have wiggle room in your budget.
Create ambiance with lighting
Good lighting instantly makes a room warm and welcoming so consider upgrading your home's lighting system as well. Make sure your house is well lit—100 watts per 50 square feet is a good rule of thumb. Rooms should also have three kinds of lighting: ambient (overhead lighting), task (under-cabinet lights), and accent (table lamps).
Deep clean and depersonalize
A spic-and-span house tells buyers that a home was well maintained, and thus less likely to harbor problems. Also, depersonalize your home by storing away personal knick-knacks like family photos. Not only will this declutter your home, it will also make it easier for buyers to imagine living in your space.
Keep it neutral
You may love bold colors, but potential buyers may not. That's why real estate agents recommend using neutral tones such as brown, gray, or cream to make your home more of a "blank canvas." Furthermore, using these colors saves the buyer from having to repaint rooms should they buy your home.
Keep it understated
Tuck away ostentatious artwork or furniture as these may overshadow the standout features of your home. Furthermore, while displaying said items can certainly add character to a room, they may also create the false expectation that they come with the purchase.
Don't forget your floors
Few parts of your home get as much abuse as your floors, so make sure to give them some TLC during staging. Have wood floors refinished and have marble floors resealed to restore their beauty. Area rugs are also a quick and easy way to make floors more aesthetically pleasing.
Take nice photos
Increasingly, the first 'viewing' of a home happens online, so taking high-quality photos of your home can go a long way towards attracting a potential buyer. If your budget allows it, consider hiring a professional who specializes in interior photography. Otherwise, use a high-resolution camera to show off your home's best features.
Consult with an agent
An experienced real estate agent knows the ins and outs of selling a home and can provide valuable advice on staging a home. They also have a network of trusted contractors and professional home stagers that you can tap. And once your home has been staged, they'll use their marketing know-how to promote it to as many potential buyers as possible.
Need help staging and marketing your home to buyers? Contact us, David Chung and Sunny Kim, at 650.489.6251 or email us at davidandsunny(at)compass(dotted)com.